The Briefing on Wednesday 14th February 2018
In this edition of The Briefing from Informed Choice on Wednesday 14th February 2018 – price inflation stays at 3%, one million employers enrolling in workplace pensions, Japanese economic growth slows, GKN sell-off and cash return plan, and cohabiters could be left out in the cold.
Subscribe to The Briefing by email
Enable the Amazon Alexa Flash Briefing Skill
Price inflation stays at 3%
Price inflation, as measured by the Consumer Prices Index, stayed at 3% for the year to January. Economists expected a slight fall in CPI to 2.9% in January. Inflation remains close to the six-year high of 3.1% reported in November.
According to the Office for National Statistics, although petrol prices had risen by less than this time last year, the cost of entry to attractions like zoos and gardens fell more slowly. Food price inflation now appears to be slowing, after rising strongly since 2016.
ONS senior statistician James Tucker said:
Factory goods price inflation continued to slow, with food prices falling in January. The growth in the cost of raw materials also slowed, with the prices of some imported materials falling.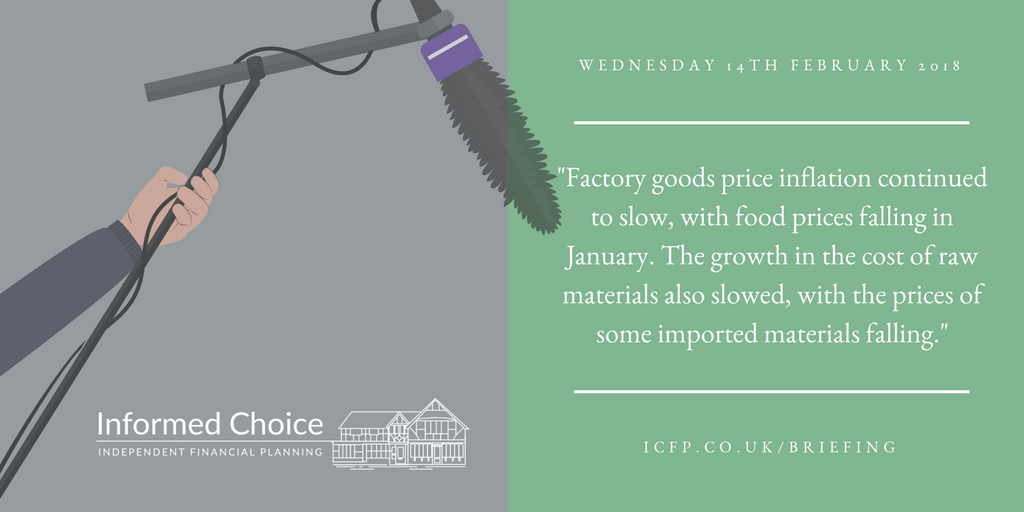 One million employers enrolling in workplace pensions
One million UK employers have enrolled staff into a workplace pension, helping more than 9 million employees save towards a more financially secure retirement.
The new figures, released by The Pensions Regulator, show that over 600,000 employers have complied with their duties in the past year alone. The deadline is approaching for the remaining 150,000 employers, including new businesses set up since the government scheme was launched, to enrol their staff by June 2018.
Guy Opperman, Minister for Pensions and Financial Inclusion, said:
With one million employers – from the small sandwich shop owner to the large supermarket chain – now enrolling their staff into a workplace pension, we are creating a nation of responsible employers who are reassuring their workforce that with their support, they will have a secure retirement.

Clearly this would not have been possible without the hard work and continued support of employers across the UK. That is why we are committed to working closely with them to prepare for our recently announced proposals which will ensure even more people, including 18 to 21 year olds, lower earners and multiple job holders, can benefit from a workplace pension in the future.
Japanese economic growth slows
Economic growth in Japan slowed in the final quarter of last year, falling short of expectations. Japan's economy, the world's third-largest behind the US and China, grew at an annualised rate of 0.5% in the last three months of 2017. Analysts had forecast growth of 0.9%.
Despite missing analyst expectations, it represents the eighth consecutive quarter of growth for Japan, the longest sequence of growth for the country since the late 1980s.
Along with the disappointing economic growth figures, consumer spending was up by 0.5% compared to the previous quarter, beating expectations of 0.4% growth. Consumer spending is an important indicator in Japan where it represents around 60% of its economy.
GKN sell-off and cash return plan
The engineering giant GKN is planning to sell of parts of its business and return cash of £2.5bn to shareholders. The plans form part of GKN's defence about a hostile takeover bid worth £7.4bn from rival firm Melrose Industries. GKN rejected the bid last month saying it "fundamentally undervalued" the business.
The sale of various GKN divisions will take place during the next 12-18 months, with shareholders being repaid cash over the next three years.
GKN chief executive Anne Stevens said:

The new strategy brings clarity, accountability and focus to GKN's world class businesses and will allow the group to attain world class financial performance.

Too often we pursued growth at the expense of returns, this will no longer be the case. The new strategy brings discipline, both financial and operational.
Cohabiters could be left out in the cold
New research from Direct Line Life Insurance has found 38 % of cohabiting couples don't know what their legal rights would be in the event their partner passes away.
One in ten cohabiting Brits, believe that if they own a home together, they would inherit their partner's share of the property in the event of their death. However, the law states that surviving partners may only inherit the shared property if their partner expresses this intention in a will. If not, their share of the property would be inherited by their next of kin.
Despite this, less than a third of co-habiting partners have a will, compared to 52% of married couples, meaning their loved ones could be left in a vulnerable financial position in the event of their death.
Jane Morgan, Business Manager of Direct Line Life Insurance commented:
As our society changes, marriage is further down the agenda for many couples. It is very common for partners to live together for extended periods of time before getting married, if they marry at all. However, the law is still somewhat behind the times in regards to cohabiting partners and worryingly, millions of Brits are under the false impression that they have the same legal and financial security as married couples.
Subscribe to The Briefing by email
Enable the Amazon Alexa Flash Briefing Skill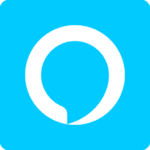 Informed Choice Radio provides a regular personal finance and investment news summary, with an updated Flash Briefing for your Alexa enabled device. Search for Informed Choice Radio in your Amazon Alexa app or visit https://www.amazon.co.uk/Informed-Choice-Radio/dp/B074DZZ1MF/ to enable this Flash Briefing.