Cranleigh Literary Festival 2018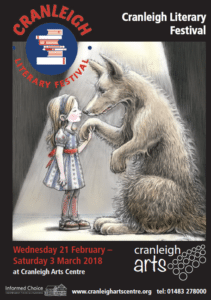 Informed Choice is pleased to be headline sponsor for the Cranleigh Literary Festival again in 2018 at Cranleigh Arts Centre.
Here's a sample of some of the things happening during the Cranleigh Literary Festival this year.
The Festival starts on Wednesday 21st February 2018 with a performance of The Time Machine at 7.30pm.
Rebecca Vaughan presents Elton Townend Jones' radical new interpretation of the HG Wells classic, in which a Victorian time traveller transcends across the ages from 1900 to our own far future – from the fall of man to the end of the world.
Quentin Letts, writing in the Daily Mail said of The Time Machine, 'Terrific… grips the imagination… ideas spit off the narrative like sparks from a welder's torch.'
There's an opportunity to meet author Jeremy Elson on Saturday 24th February, from 10am to 2pm.
Cranleigh author, Jeremy Elson, invites you to drop in and explore his debut book, Frank Penny and the Mystery of Ludlow Hums – the first in a series of original mystery/adventure stories for teens.
There's another meet the author session on Saturday 24th February at 10.30am.
Blue Peter Award Winning author and multi-instrumentalist Gareth P Jones has appeared at festivals all over the world.
Join him for a lively interactive performance, peppered with irreverent humour, unbridled energy and original songs inspired by his popular books.
Cranleigh Literary Festival continues on Thursday 1st March at 7.30pm with a talk by local author and Informed Choice client Tim Albert.
Have you ever been tempted to write about your life? In this talk, author and trainer Tim Albert will draw on his recent experience of doing just that, and offer some easy to apply tips on how you can do the same.
Tim's advice will range from getting the first words down on paper to dealing with criticism.
There's also a Poetry Workshop at 7pm on Thursday 1st March.
Discover the world of ekphrastic poetry (poetry written in response to works of art) and develop your own masterpiece. The workshop is lead by author Claire Dyer whose published works include Eleven Rooms, Interference Effects and Falling for Gatsby.
Participants will be given a prompt to inspire and develop their own pieces of writing. The session will conclude with readings from Claire's own work.
A popular highlight of the Cranleigh Literary Festival is the Spoken Word Night, taking place this year on Friday 2nd March at 8pm.
Take a seat, grab a drink and enjoy poetry readings featuring Dónall Dempsey, Kitty Coles, Kyle McHale, Ray Pool and Janice Dempsey and others.
There will be an open mic for readers from the audience. So come and share your own poems for up to 5 minutes at the mic.
On Saturday 3rd March from 10am to 2pm, come along to Cranleigh Arts Centre to meet local author Jean Bonham.
Her novel 'Fireworks to Thailand' tells the story of a young mother whose expectations of a happy family life were disappointed at every turn.
With little option, she settled into married life with a possessive, controlling husband with whom she had very little in common. Happiness seemed to elude her but she strived to make the most of what she did have – two lovely children.
Many years later and a chance meeting was about to turn her life upside down in more ways than one…
On Saturday 3rd March at 3pm, Adrienne Dines is hosting The Art of Storytelling.
We all love a good story well told. In this light-hearted talk, you'll learn what makes for successful heroes and villains, how to raise the stakes and what constitutes a 'good' ending.
Come along prepared to get involved and challenge the storyteller in you. Suitable for readers and writers alike.
As a finale to the Cranleigh Literary Festival 2018, there's a screening of Goodbye Christopher Robin in the Jack Wagg Auditorium.
We do hope you will join us for what promises to be an exciting Cranleigh Literary Festival, packed full of events that will appeal to all literature lovers.
You can pick up a Festival programme from Cranleigh Arts Centre or our offices at Sundial House, or visit www.cranleighartscentre.org to find out more and book your tickets.