The do's and don'ts of the world's best investors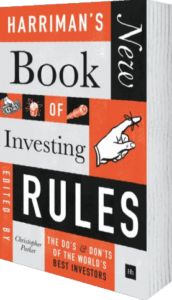 Every investor needs an edge. Where better to look than the rules of the world's best investors?
Earlier in the year, Martin was approached by the publisher Harriman House to contribute a chapter for the latest edition of their legendary Harriman's New Book of Investing Rules.
This all-new volume is published today and is packed with hundreds of pages of compelling content, bringing you arguments of the very best investing minds around the globe in one unputdownable book.
Within the book are the the do's and don'ts that have driven profits in the billions.
They are the practical precepts of many of the best investors in the UK and the US and further afield – the wisdom of the money manager who outperformed the market by staggering percentages for three decades in a row, of the private investor who once trained the professionals in the City, of the ex-hedge fund manager who now advocates the simplest investing system in the world.
Harriman's New Book of Investing Rules features 50+ rules from the most interesting minds in modern investing, from Wall Street to Westminster.
Martin's chapter in the book is titled Britain's Bestselling Financial Planner on Dealing with Risk and Reward.
His contribution sits alongside chapters from AJ Bell founder Andy Bell, Vanguard founder John Bogle, star fund manager Anthony Bolton, trend investor Michael Covel, and Conservative politician Jacob Rees-Mogg.
Harriman's New Book of Investing Rules is available to buy now as a hardback or Kindle edition.